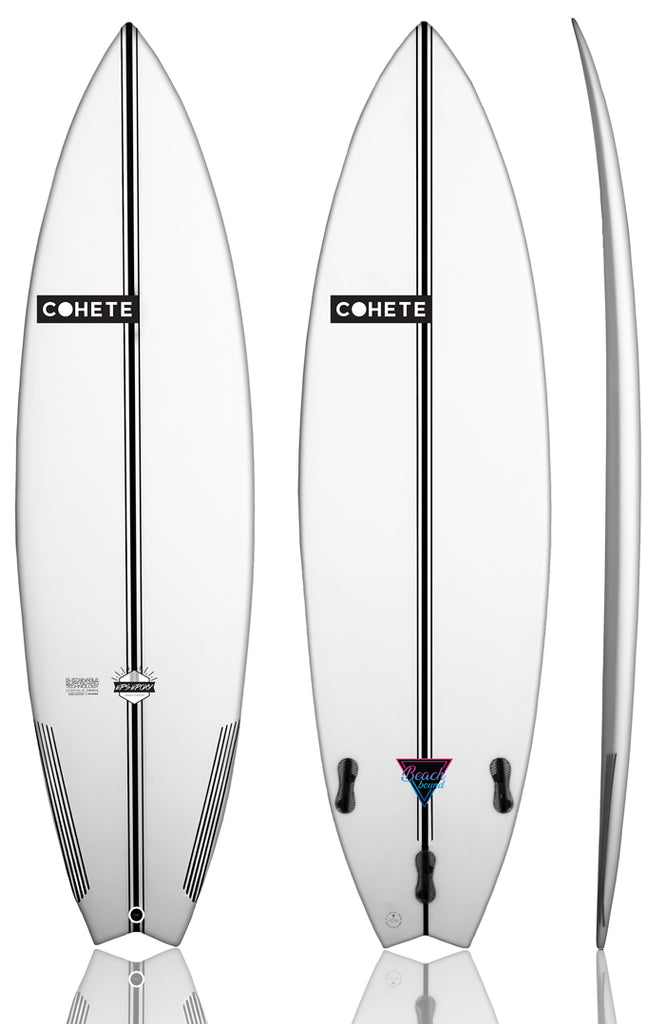 €670.00
€0.00
Beach Bound
Model Description
The Beach Bound is our newest model that team riders put to the test. They claim is a great board to ride in contests or free surfing when waves are 3-5ft. The Beach Bound has a fuller nose, but still narrow at the tip, added foam under the chest and a slight wider outline comparing with our performance shortboards. Very easy to catch waves when still performs in vertical surfing, combining a single concave to double through the fin area. This results to a very responsive turning ability when the board is flying through the sections with tons of speed. We recommend you to ride this board 1-2 inches shorter than your standard surfboard.
Concave
The board sits on a single concave which gives loads of drive and clears sections with ease. It also has a very sensitive rail system which enhances performance on bigger waves.
Fin Set-up
This board comes standard as a thruster with FCS 2 or FUTURES.


Available Dimensions
Wave Chart
Technology
| | | | | |
| --- | --- | --- | --- | --- |
| #### | LENGTH | WIDTH | THICK | VOLUME |
| N504 |   5'4" | 19.50" |  2.32" |  26.95lt |
| N505 |   5'5" | 19.55" |  2.38" |  28.2lt |
| N506 |   5'6" | 19.75" |  2.40" |  29lt |
| N507 |   5'7" | 19.88" |  2.42" |  29.75lt |
| N508 |   5'8" | 20.15" |  2.48" |  31.55lt |
| N509 |   5'9" | 20.25" |  2.55" |  33lt |
| N510 |   5'10" | 20.50" |  2.60" |  34.5lt |
| N511 |   5'11" | 20.65" |  2.60" |  35.2lt |
| N600 |   6'0" | 20.70" |  2.65" |  36.5lt |
| N602 |   6'2" | 20.75" |  2.75" |  39lt |
| N604 |   6'4" | 21.00" |  2.88" |  42.35lt |
| N606 |   6'6" | 21.50" |  3.00" |  46.25lt |
| N608 |   6'8" | 22.00" |  3.15" |  50.85lt |
| N610 |   6'10" | 22.25" |  3.25" |  54.35lt |
| N700 |   7'0" | 22.50" |  3.25" |  56.30lt |
Available Dimensions
| | | | | |
| --- | --- | --- | --- | --- |
| #### | LENGTH | WIDTH | THICK | VOLUME |
| N504 |   5'4" | 19.50" |  2.32" |  26.95lt |
| N505 |   5'5" | 19.55" |  2.38" |  28.2lt |
| N506 |   5'6" | 19.75" |  2.40" |  29lt |
| N507 |   5'7" | 19.88" |  2.42" |  29.75lt |
| N508 |   5'8" | 20.15" |  2.48" |  31.55lt |
| N509 |   5'9" | 20.25" |  2.55" |  33lt |
| N510 |   5'10" | 20.50" |  2.60" |  34.5lt |
| N511 |   5'11" | 20.65" |  2.60" |  35.2lt |
| N600 |   6'0" | 20.70" |  2.65" |  36.5lt |
| N602 |   6'2" | 20.75" |  2.75" |  39lt |
| N604 |   6'4" | 21.00" |  2.88" |  42.35lt |
| N606 |   6'6" | 21.50" |  3.00" |  46.25lt |
| N608 |   6'8" | 22.00" |  3.15" |  50.85lt |
| N610 |   6'10" | 22.25" |  3.25" |  54.35lt |
| N700 |   7'0" | 22.50" |  3.25" |  56.30lt |
Wave Chart
Technology