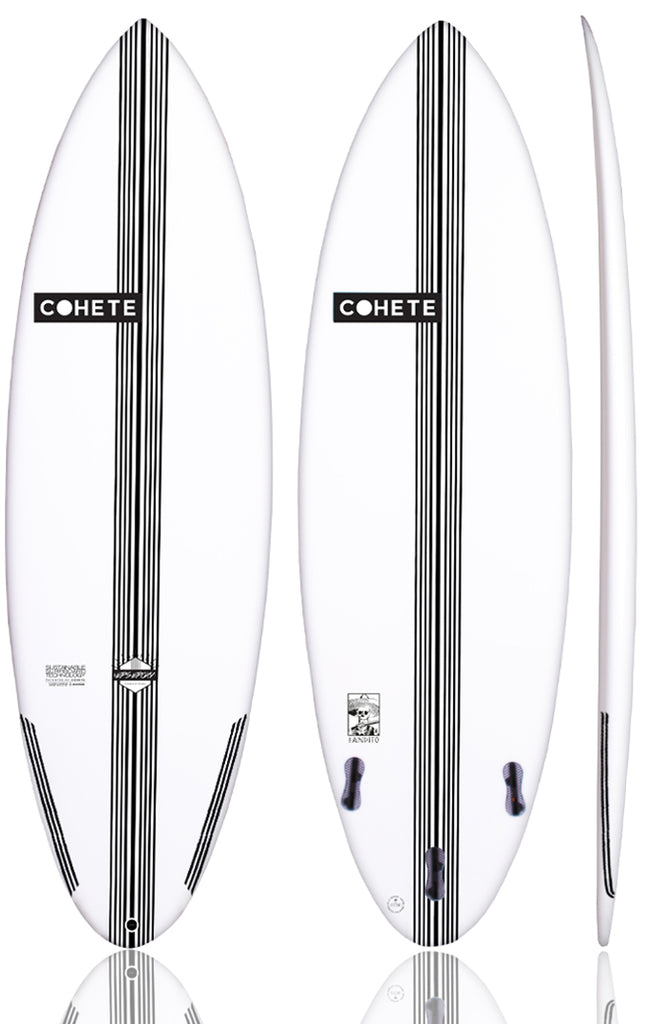 €670.00
€0.00
BANDITO
Model Description
Bandito has numerous dimensions to choose from which covers all surfing levels and needs. This board has a rounded pin tail to perform on serious waves and tons of drive to glide through dead sections with ease. The Bandito is for barrel hunting or just surfing anywhere that waves exist. On bigger sizes this board transforms into a mid length board and on step down sizes you can surf it as a groveler.
Concave
The board sits on a single concave which gives loads of drive and clears sections with ease. It also has a very sensitive rail system which enhances performance on bigger waves.
Fin Set-up
This board comes standard as a thruster with FCS 2 or FUTURES.
Video
Available Dimensions
Wave Chart
Technology
| | | | | |
| --- | --- | --- | --- | --- |
| #### | LENGTH | WIDTH | THICK | VOLUME |
| N504 |   5'4" | 19.50" |  2.32" |  26.95lt |
| N505 |   5'5" | 19.55" |  2.38" |  28.2lt |
| N506 |   5'6" | 19.75" |  2.40" |  29lt |
| N507 |   5'7" | 19.88" |  2.42" |  29.75lt |
| N508 |   5'8" | 20.15" |  2.48" |  31.55lt |
| N509 |   5'9" | 20.25" |  2.55" |  33lt |
| N510 |   5'10" | 20.50" |  2.60" |  34.5lt |
| N511 |   5'11" | 20.65" |  2.60" |  35.2lt |
| N600 |   6'0" | 20.70" |  2.65" |  36.5lt |
| N602 |   6'2" | 20.75" |  2.75" |  39lt |
| N604 |   6'4" | 21.00" |  2.88" |  42.35lt |
| N606 |   6'6" | 21.50" |  3.00" |  46.25lt |
| N608 |   6'8" | 22.00" |  3.15" |  50.85lt |
| N610 |   6'10" | 22.25" |  3.25" |  54.35lt |
| N700 |   7'0" | 22.50" |  3.25" |  56.30lt |
Video
Available Dimensions
| | | | | |
| --- | --- | --- | --- | --- |
| #### | LENGTH | WIDTH | THICK | VOLUME |
| N504 |   5'4" | 19.50" |  2.32" |  26.95lt |
| N505 |   5'5" | 19.55" |  2.38" |  28.2lt |
| N506 |   5'6" | 19.75" |  2.40" |  29lt |
| N507 |   5'7" | 19.88" |  2.42" |  29.75lt |
| N508 |   5'8" | 20.15" |  2.48" |  31.55lt |
| N509 |   5'9" | 20.25" |  2.55" |  33lt |
| N510 |   5'10" | 20.50" |  2.60" |  34.5lt |
| N511 |   5'11" | 20.65" |  2.60" |  35.2lt |
| N600 |   6'0" | 20.70" |  2.65" |  36.5lt |
| N602 |   6'2" | 20.75" |  2.75" |  39lt |
| N604 |   6'4" | 21.00" |  2.88" |  42.35lt |
| N606 |   6'6" | 21.50" |  3.00" |  46.25lt |
| N608 |   6'8" | 22.00" |  3.15" |  50.85lt |
| N610 |   6'10" | 22.25" |  3.25" |  54.35lt |
| N700 |   7'0" | 22.50" |  3.25" |  56.30lt |
Wave Chart
Technology