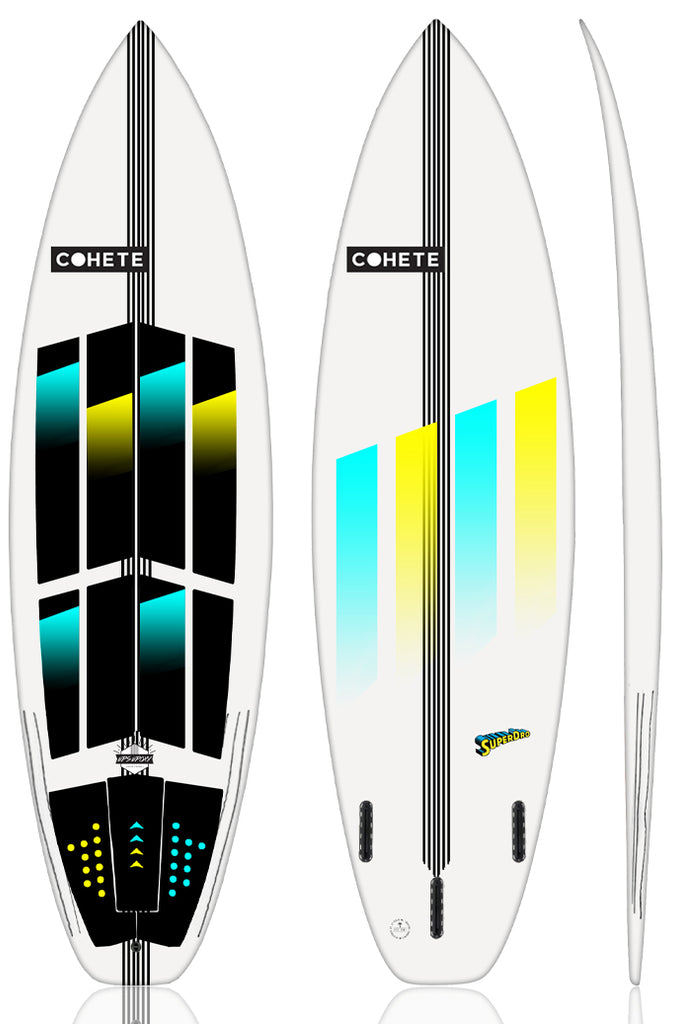 €565.00
€0.00
SUPERDRO
Model Description
SuperDro is a well tested kite surfboard in wave conditions from 1-5 ft. This board is to ride at least two inches shorter than your normal shortboard. Team rider George has spent plenty of time innovating on this model. Lately he has widen the tail and was very happy to see the board reacting still with effortless precision passing the sections super fast. Check the last clip of SuperDro from South Africa as a reference. Overall SuperDro is a great design for someone that wants to start kitesurfing strapless and have this board as an all arounder. The board comes with 3 hole inserts in both pu/poly and eps/wood technologies.
Concave
Single to slight Double to V concave through to keep the board floating and generating speed even in the mushiest wave sections.
Fin Set-up
Thruster fin set up for power carving. 
Available Dimensions
Wave Chart
Technology
| | | | |
| --- | --- | --- | --- |
| LENGTH | WIDTH | THICK | VOLUME |
|   5'8" | 19.00" |  2.32" |  25.60lt |
|   5'10" | 19.50" |  2.40" |  28.40lt |
|   6'0" | 20.00" |  2.50" |  30.90lt |
|   6'2" | 20.50" |  2.55" |  33.15lt |