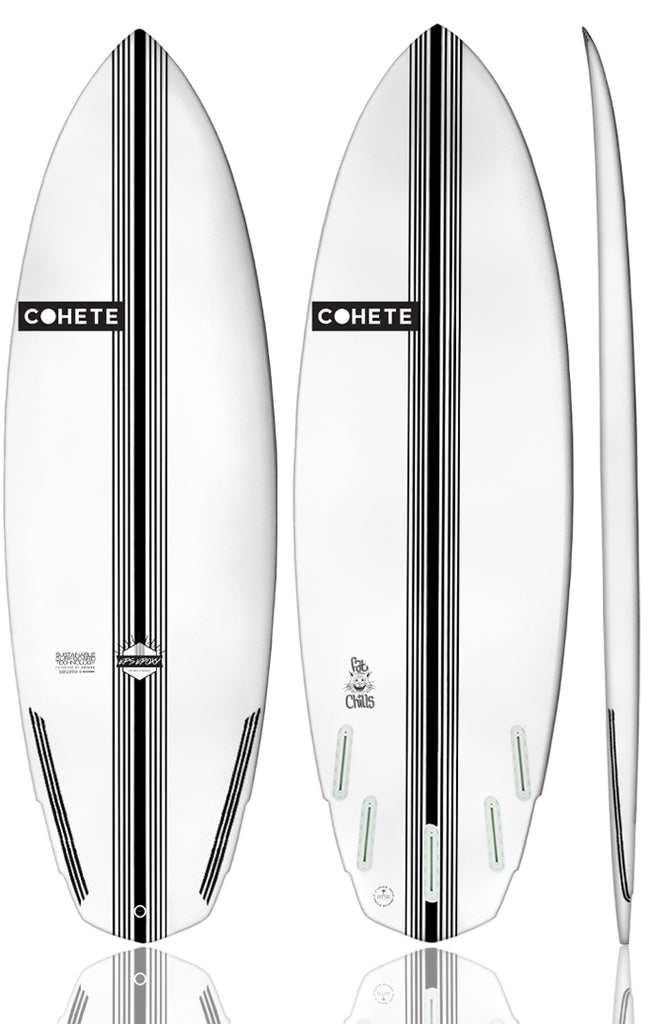 €730.00
€0.00
Fat Chills
Model Description
Refined over the 7Bucks model, Fat Chills is a groveler surfboard, fastest down the line comparing with all the other grovelers we do. This board is well surfed in 1-3ft conditions. Modern, maxed out performance and 5 fin set up to let you experiment with your surfing. Order this surfboard 4" to 5" inches shorter than your average surfboard.
Concave
Vee entry to Double concave through the bottom to keep the board floating and generating speed even in the mushiest summer waves. Vee off the tail in addition with a double wing tail design to loosen the the tail but still turn in the tightest arc possible due to the diamond squash tail design.
Fin Set-up
5-fin set-up for use either as a thruster or a quad.
Available Dimensions
Wave Chart
Technology
| | | | | |
| --- | --- | --- | --- | --- |
| #### | LENGTH | WIDTH | THICK | VOLUME |
| FC504 |   5'4" | 20.25" |  2.40" |  29lt |
| FC505 |   5'5" | 20.50" |  2.40" |  29.95lt |
| FC506 |   5'6" | 20.75" |  2.42" |  31.30lt |
| FC507 |   5'7" | 21.00" |  2.50" |  32.80lt |
| FC508 |   5'8" | 21.25" |  2.55" |  34.70lt |
| FC509 |   5'9" | 21.50" |  2.60" |  36.25lt |
| FC510 |   5'10" | 21.75" |  2.60" |  37.10lt |
| FC511 |   5'11" | 21.88" |  2.70" |  39.35lt |
| FC600 |   6'0" | 22.00" |  2.70" |  40.85lt |
| FC601 |   6'1" | 22.35" |  2.75" |  43lt |
| FC602 |   6'2" | 22.50" |  2.80" |  44.50lt |
Available Dimensions
| | | | | |
| --- | --- | --- | --- | --- |
| #### | LENGTH | WIDTH | THICK | VOLUME |
| FC504 |   5'4" | 20.25" |  2.40" |  29lt |
| FC505 |   5'5" | 20.50" |  2.40" |  29.95lt |
| FC506 |   5'6" | 20.75" |  2.42" |  31.30lt |
| FC507 |   5'7" | 21.00" |  2.50" |  32.80lt |
| FC508 |   5'8" | 21.25" |  2.55" |  34.70lt |
| FC509 |   5'9" | 21.50" |  2.60" |  36.25lt |
| FC510 |   5'10" | 21.75" |  2.60" |  37.10lt |
| FC511 |   5'11" | 21.88" |  2.70" |  39.35lt |
| FC600 |   6'0" | 22.00" |  2.70" |  40.85lt |
| FC601 |   6'1" | 22.35" |  2.75" |  43lt |
| FC602 |   6'2" | 22.50" |  2.80" |  44.50lt |
Wave Chart
Technology