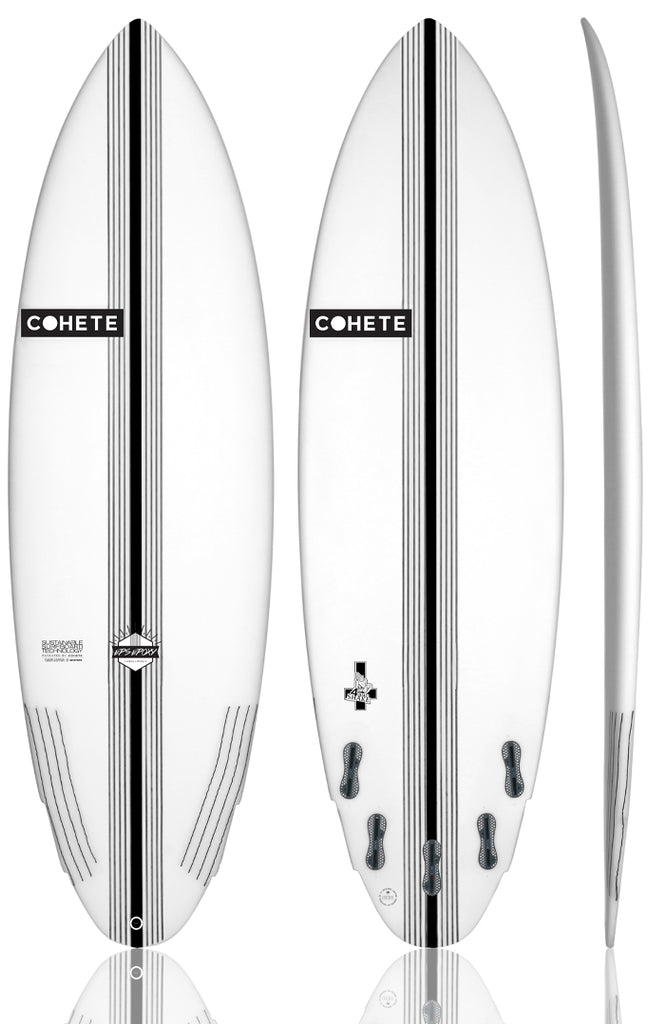 €730.00
€0.00
4 Quad Shake
Model Description
4 Quad Shake is a small wave performance board that can be ordered in bigger sizes for those that want to stepdown from a fun board or a mini-mal and to have a hybrid in their quiver. The success of this board is due to its unique design, allowing more volume under the chest area of the board which translates to easier paddling and wave catching. 
Concave
Single-double-vee concave and rounded outline for easy wave catching and more flotation.
Fin Set-up
5-fin set-up for use either as a thruster or a quad.
Available Dimensions

Wave Chart  

Technology
| | | | | | |
| --- | --- | --- | --- | --- | --- |
| #### |   | LENGTH | WIDTH | THICK | VOLUME |
| Q504 | | 5'4" | 19.50" | 2.32" | 26.95lt |
| Q505 | | 5'5" | 19.55" | 2.38" | 28.20lt |
| Q506 |   | 5'6" | 19.75" | 2.40" | 29lt |
| Q507 |   | 5'7" | 19.88" | 2.42" | 29.75lt |
| Q508 |   | 5'8" | 20.15" | 2.48" | 31.55lt |
| Q509 |   | 5'9" | 20.25" | 2.55" | 33lt |
| Q510 |   | 5'10" | 20.50" | 2.60" | 34.50lt |
| Q511 |   | 5'11" | 20.65" | 2.60" | 35.20lt |
| Q600 |   | 6'0" | 20.70" | 2.65" | 36.50lt |
| Q602 |   | 6'2" | 20.75" | 2.75" | 39lt |
| Q604 |   | 6'4" | 21.00" | 2.88" | 42.35lt |
| Q606 |   | 6'6" | 21.50" | 3.00" | 46.25lt |
| Q608 | | 6'8" | 22.00" | 3.15" | 50.85lt |
| Q610 | | 6'10" | 22.25" | 3.25" | 54.35lt |
| Q700 | | 7'0" | 22.50" | 3.25" | 56.30lt |
Available Dimensions
| | | | | | |
| --- | --- | --- | --- | --- | --- |
| #### |   | LENGTH | WIDTH | THICK | VOLUME |
| Q504 | | 5'4" | 19.50" | 2.32" | 26.95lt |
| Q505 | | 5'5" | 19.55" | 2.38" | 28.20lt |
| Q506 |   | 5'6" | 19.75" | 2.40" | 29lt |
| Q507 |   | 5'7" | 19.88" | 2.42" | 29.75lt |
| Q508 |   | 5'8" | 20.15" | 2.48" | 31.55lt |
| Q509 |   | 5'9" | 20.25" | 2.55" | 33lt |
| Q510 |   | 5'10" | 20.50" | 2.60" | 34.50lt |
| Q511 |   | 5'11" | 20.65" | 2.60" | 35.20lt |
| Q600 |   | 6'0" | 20.70" | 2.65" | 36.50lt |
| Q602 |   | 6'2" | 20.75" | 2.75" | 39lt |
| Q604 |   | 6'4" | 21.00" | 2.88" | 42.35lt |
| Q606 |   | 6'6" | 21.50" | 3.00" | 46.25lt |
| Q608 | | 6'8" | 22.00" | 3.15" | 50.85lt |
| Q610 | | 6'10" | 22.25" | 3.25" | 54.35lt |
| Q700 | | 7'0" | 22.50" | 3.25" | 56.30lt |
Wave Chart  
Technology