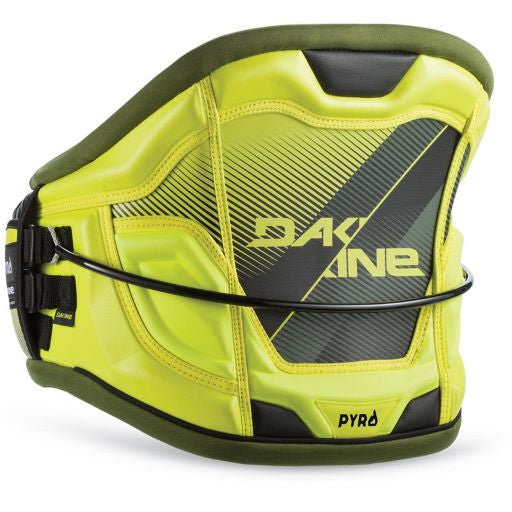 €206.00
€0.00
DAKINE - PYRO HARNESS
DESCRIPTION
The Dakine Pyro kite waist harness is continually revised to be technically up to date. Here agree functionality and comfort, even with kiters who want no stiff waist harness. Although the Pyro supports the back and relieves him the best possible way, but by the structure and the special foam padding, the trapezoidal shape of the body adjusts. Through this memory effect, the Pyro is indeed robust, but there are simultaneously and has a self-relieving with strong wind and long sessions. This update Kite Trapeze has also put emphasis on the proper fit when wet. The spreader bar keeps the harness in position, the belt is doubly adjustable and very safe. The preformed foam on the inside is complemented by an ultra-lightweight, high damping foam padding. This prevents riding up and chafing, with the soft edges avoid bruising.
PRODUCT SPECIFICATIONS
Adaptive Fit Composite back panel with Texon® counter/stiffener.
Push button hammerhead spreader bar.
Freedom shape spreader bar pad.
Memory foam pressure point relief zones.
Dual blade hook knife.
PRODUCT FEATURES
XS = 28-30'' [71-76cm] - Spreader bar = 6''/15 cm
S = 30-32'' [76-81cm] - Spreader bar = 10''/25 cm
M = 32-34'' [81-86cm] - Spreader bar = 10''/25 cm
L = 34-36'' [86-91cm] - Spreader bar = 10''/25 cm
XL = 36-38'' [91-96cm] - Spreader bar = 12''/30 cm